Some people are worried that there is a shortage on pumpkins this year- i was finding a lot of information on this topic but maybe that's just Libby's problem. I

read in the Washington post that
"
A couple of 29-ounce cans of Libby's are going for nearly $30 on eBay". Read here.

What a sad day that would be if there were NO PUMPKINS! I realize the mid-west did have some problems with the rain earlier this year, but we are still ok according to the Chicago Tribune. read here.

Why would you spend $30 on canned pumpkin when every local produce stand has a beautiful variety of pumpkins! My friend had pulled out a few sandwich-sized zip-lock bags of her own cooked pumpkin and we turned them into pumpkin pies! I was inspired so I bought a butternut squash because the stand lady said they are a meaty pumpkin and make great pies.

Let me just say for a huge $2.00 squash and easy prep work, I got 7 cups of pureed pumpkin in the freezer waiting their fate!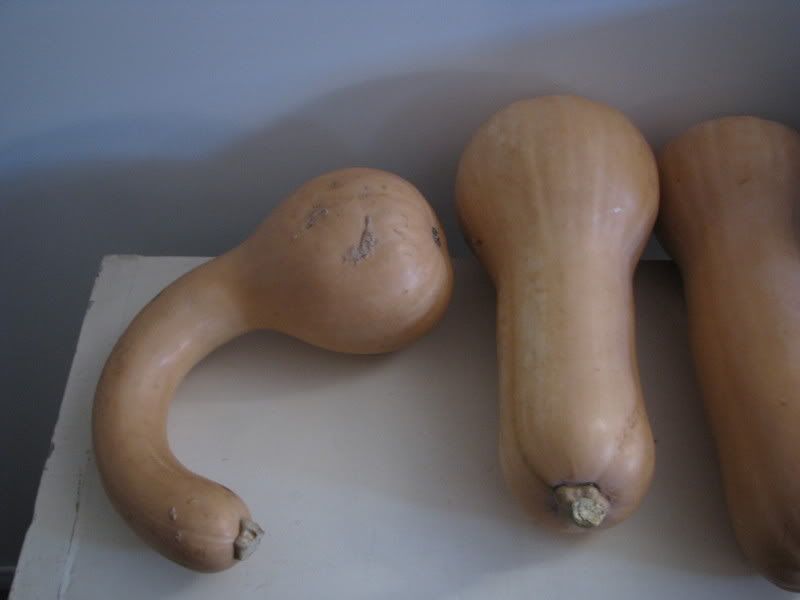 My butternut did have a very long neck so that's why I ended up with so much goo. I'll share very quickly how I prepared it.

1. washed the skin
2. preheated the oven to 400 degrees
3. stabbed the skin a few times in different places for steam vents
4. placed the pumpkin on a cookie sheet and slid into the oven
5. cooked for an hour (or longer) until my fork went through it smoothly
6. removed the squash and allowed it to cool for a few hours
7. cut it open and removed the seeds and skin
8. placed it in a huge bag and allowed it to sit in the refrigerator overnight
9. cut the corner of the bag over the sink and drain any juice
10. freeze it!

I didn't puree it, which I'll have to do upon thawing but I should have threw it in the food processor or blender before freezing. Just be careful not to blend it too long which will put too much air into it and look bubbly.
Now you are loaded with fresh, pureed pumpkin for muffins, pies, breads or soups!